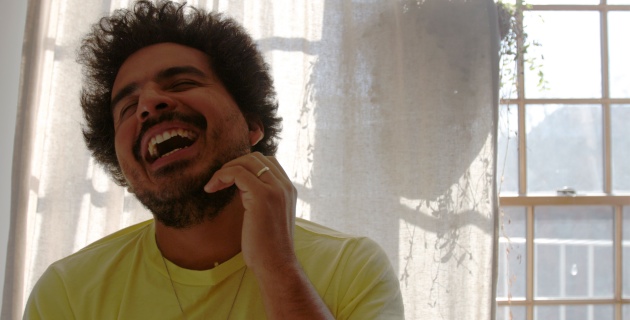 Where does Helado Negro's music come from? Awash in rich, ambient resonance, it seems to have emanated from someplace as remote as the future, or a distant memory.
But like all his music, Helado Negro's new LP Double Youth was recorded in the place where he—Roberto Carlos Lange, a.k.a. Helado Negro—lives, in the home studio in his living room. And for all its sonic spaciousness, it's also inescapably intimate.
Lange began work on Double Youth immediately after completing the last Helado Negro full-length, Invisible Life, during breaks from an enormous range of concurrent musical projects: along with Helado Negro material, he was creating experimental, conceptual works for performance by large ensembles.
And the funk/hip-hop tinged electronic grooves of Double Youth are experimental too, in a way: structurally, texturally, and rhythmically complex and unexpected. But the process of creating the album was about concision and directness, building songs out of of nothing but voice and electronics, and then paring away every inessential section from a piece of music to find the perfect pop song at its core.
The lyrics show him wrapping his head around subtle, often abstract concepts, and putting them in a language that's easy to understand. Literally: Double Youth shows Helado Negro thinking bilingually, making the sound of his voice more present than ever, and singing lyrics—in Spanish and English—designed to transcend grammar and idiom to speak emotional truths directly to the listener.
Double Youth arrives on CD, LP, and digital on September 2. A VIP edition is available in limited quantities (just 100), hand-made and hand-numbered by Roberto Lange himself. A limited edition first-pressing in translucent blue is also available. Preorder those here.
To hear the first single, head over to FADER.
« Previous Page
—
Next Page »