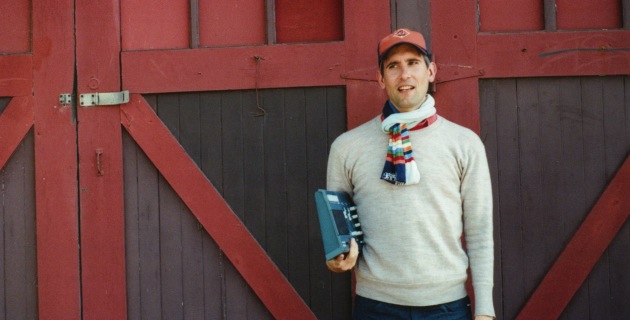 Photo by Carolyn Pickell
Lately, Half-handed Cloud's John Ringhofer has been paying close attention to Robert Rauschenberg, to Joseph Beuys, to artists and filmmakers and musicians who turn the stuff and debris of everyday life into high art–and it shows. Ringhofer is set to release Flying Scroll Flight Control, his sixth LP as Half-handed Cloud, on Asthmatic Kitty Records in June of this year, and it positively bristles with contradictions like these, of discerning the absolute truths concealed within chaos and ephemera.
The tunes on Flying Scroll Flight Control are pure pop–they were mixed and polished to a shine with Sufjan Stevens in his Brooklyn studio during the first week of September last year. At times the album's buzzing trunkful of unlikely instruments suggest a rough-hewn, ramshackle aesthetic, recalling Flight Control's roots in the bedroom demos that Oakland-based Ringhofer made during a few months abroad, recording with whatever was at hand.
But nothing is disposable in the musical world of Half-handed Cloud: the dizzy arrangements envince the sophistication of Ringhofer's musical thinking, while the lyrics dig deep into theological mysteries by way of Paul the Apostle.
With Flying Scroll Flight Control, Half-handed Cloud aims to marry the humblest sound-sources and the highest artistic aspirations, the giddiest aural pleasures and the most reverential jubilation, to be at once a confection for the ears and nourishment for the soul.
See the trailer below. You can pre-orders for the pop-bottle-clear vinyl, and CD, here.
December 23rd, 2013 , by John Beeler
Merry Christmas and happy holidays, from our family to you and yours! Whatever you might celebrating this season, and however you might be celebrating it, we hope you'll enjoy some seasonal tunes our friends have put together for you.
Half-handed Cloud, Liz Janes, Danielson, and a heavenly host of other terrific artists have covered movements from the first part of Handel's Messiah—that's the Christmas part—to Familyre's Messiah – Part 1, a charity compilation on Sounds Familyre Records. It only costs $4 to download the whole album here or send it as an instant gift, and all proceeds go to the Red Cross to benefit victims of Typhoon Haiyan.
Another project featuring Half-handed Cloud's John Ringhofer, The Season's Glreekins, is also offering their very rare, self-titled 1998 tape as a present to you. Only 150 copies of the original issue were ever dubbed by the Glreekins, a seasonal band from Cattanooga, but the Glreekins are giving it away again here on bandcamp to celebrate its 15th anniversary.
My Brightest Diamond just released a cover  of Bob Dylan and Adele's "Make You Feel My Love," which you can hear here.
And finally, as a way to say thanks to you for a great year, we've put together a free sampler compilation, with some great cover art by animator Tom DesLongchamp. Download it on Noisetrade here.
So get someplace warm, and treat your ears to a little Christmas cheer. Here's wishing you peace, joy and beautiful music this holiday season.
September 16th, 2011 , by John Beeler
Record label Burnt Toast Vinyl has just released DOVE, a brand new EP from Half-handed Cloud. John Ringhofer of HHC has been working on the EP for several years now, and it's as much a story as it is a record. He recorded the demos for DOVE in early 2008 and then played six of the songs during a live vinyl pressing with the Henningham Family Press in London (see video above). In between recording for Stowaways, John finally finished the record in the church where he used to live.
Songs are on one side of the limited edition EP, and op-art is etched on the other side. You can buy it from Burnt Toast Vinyl here, and we are carrying the commemorative poster of the event right here on AK.