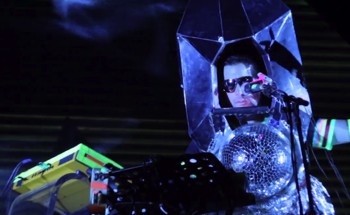 Precious stones abound! Sufjan has recruited two diamond acts to open his shows for Celebrate Brooklyn in Prospect Park. The regal and righteous My Brightest Diamond will open August 2 while the glamorous dance-pop Diamond Rings will open August 3. Add these two musical gemstones to Sufjan's diamond disco helmet (pictured above) and you get a Triple Diamond Threat! Crystal Power Healing Pop Sensation!
These two shows also mark the grand finale of the Age of Adz tour, a pop-theatrical pageant that has spanned time–zones, political boundaries, and language barriers with its eye-candy choreography (fearlessly executed by back-up singers Cat Martino and Nedelle Torrisi) and vivacious video display (by the indefatigable Deborah Johnson, whose work for the show renders the art of Royal Robertson in fantastic animation). Did we mention double drummers, an LED light extravaganza, and kabuki streamers?
The final shows will expand the band to include woodwinds and will feature two more dancers (including choreographer Jessica Dessner). More is more! Bring Your Magic 8 Ball. Wear Your Dance Pants.
My Brightest Diamond just announced a brand new album due in October (info here), and Diamond Rings is still abuzz from the astounding success of his 2010 debut Special Affection.
Editor's Note–we've just been notified by park officials: aforementioned balloons and confetti (and other perishables) are strictly prohibited on park property (it's bad for the environment, understandably). But the production team is frantically scheming to bring party vibes by any means possible. Virtual Balloon Drop? Edible Confetti? Heat Lightning? Please, God, Give Us A Double Rainbow? As for the rest of us: Bring Your Magic 8 Ball!
Remember, this is a benefit show. Ticket sales ensure that most of the other shows remain free of charge. Bring a friend, bring an open mind, and find out why Gothamist named Celebrate Brooklyn "The #1 Reason Why Brooklyn Lives Up to the Hype."
August 2 is sold out, but tickets are still available for August 3 here.
« Previous Page
—
Next Page »