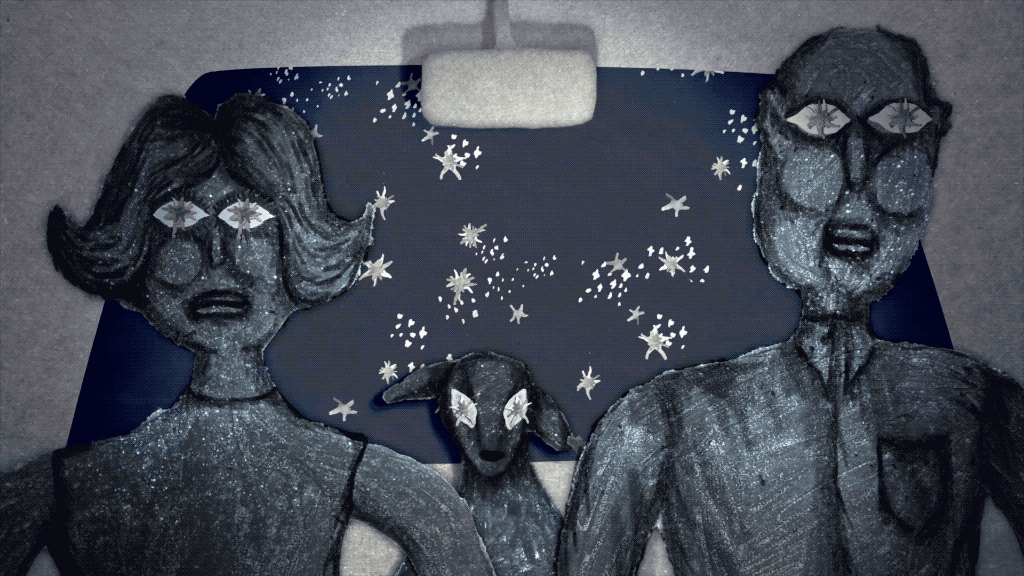 Today Angelo De Augustine released "The Ballad of Betty and Barney Hill," the second single from his upcoming new album, Toil and Trouble. The song is based on the Betty and Barney Hill incident, a UFO sighting in New Hampshire that occurred in 1961 in which the Hills, with their dog, Delsey, claimed to have been abducted by extraterrestrials.
Accompanying the song is a stop-animated video by Clara Murray.
You can hear the song and watch the video here. Check with your local record store to pre-order an indie gold exclusive color, or you can buy a cauldron-fire colored vinyl, and a bundle including a Toil and Trouble themed T-shirt, Angelo's 2019 Tomb on vinyl. Both the bundle and LP include a randomized set of three Toil and Trouble themed collector cards. The bundle is available here.
In reference to "The Ballad of Betty and Barney Hill," Angelo says that "while making the album I endured an experience so horrendous, torturous, and inexplicable that words fail me and explanation seems impossible. Within this period, I felt a close connection to Betty and Barney Hill and their story. I even started to believe that perhaps I had been abducted by some kind intergalactic being as they claimed occurred to them fifty-four years ago. When we experience something that doesn't make logical sense, the mind looks to conjure any explanation no matter how outlandish it appears. We appear to crave understanding. Perhaps it makes us feel safe. The looming presence of the unknown is daunting and sometimes frightening. However, there is much we do not yet understand, some of which we will never comprehend."
Clara Murray, who animated the video, talked about the abduction itself, "As with any alien abduction story, the case of Betty and Barney Hill left me unsettled, curious, doubtful. I wanted to capture that faltering feeling through repetitive, abstract events—as if the car is moving through time and space until time and space itself degrades around them—the characters, stuck in a loop, ultimately ending up in the same place they began. The setting is eerie, shifting, dreamlike and yet the invasion is corporeal—a haunting within flesh—as described by Barney Hill, 'Oh those eyes. They're there in my brain.'"
« Previous Page
—
Next Page »