September 4th, 2013 , by John Beeler
Son Lux's marriage of rich, composerly arrangements and brittle electronic beats earned him the title "Best New Artist" from NPR for his sprawling debut album, At War with Walls & Mazes, but the sound of his second full-length, We Are Rising, a chamber piece written and recorded entirely in the span of four weeks, was somehow even more refined. Now he has announced the completion of a third LP, Lanterns, on Joyful Noise Recordings, set for release October 29.
Also known as a member of trio s / s / s with Sufjan Stevens and rapper Serengeti, Son Lux (a.k.a. Ryan Lott) showcases on Lanterns not only his own bulletproof beats and deeply human vocals but also a range of equally versatile collaborators, including Punch Brothers mandolinist/composer Chris Thile, indie auteur DM Stith, and sister singing prodigies Lily & Madeleine.
Lanterns will be a 1200-copy "Split Color Edition" on black and clear vinyl, plus a "Deluxe VIP Edition" of 500 hand-numbered "color-in-color" vinyl copies that literally bear Son Lux's thumbprint in silver paint. Also available as a CD or digital download, Lanterns' release will be celebrated with a concert at Joe's Pub in New York City on November 4th.
"Lost It to Trying," the first single, features Lily & Madeleine singing backup vocals to Ryan Lott.
LISTEN to "Lost It to Trying" @ Pitchfork
PURCHASE Lanterns @ Joyful Noise
February 21st, 2013 , by John Beeler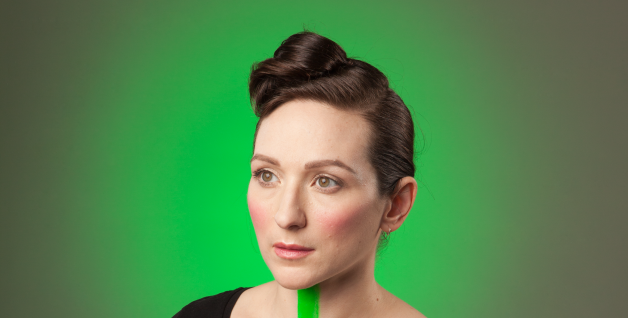 As part of its new partnership with Brooklyn-based, artist-run label New Amsterdam Records, the Indianapolis Symphony Orchestra's March 9, 2013 concert presents Shara Worden of My Brightest Diamond and Ryan Lott of Son Lux in a performance that smudges the line between "rock" and "classical." You can buy tickets here.
Ryan's set features the music of Son Lux in new orchestral arrangements created by a trio of rising classical musicians:  electro-acoustic composer Daniel Wohl, and acclaimed singer-composers Caroline Shaw (of avant-garde chamber choir Roomful of Teeth) and New Amsterdam co-founder William Brittelle.  Shara will join the orchestra in a perfomance of Penelope, the "ravishingly melancholy" (New York Times), "quietly devastating" (Pitchfork) song cycle by Sarah Kirkland Snider, another co-founder of New Amsterdam.
[youtube width="542″ height="305″]http://www.youtube.com/watch?v=4i-6wVYftgg&feature=player_embedded[/youtube]
Neither singer is a stranger to the world of classical music.  Both have studied composition and collaborated extensively cutting-edge chamber sextet yMusic, and Shara was recently tapped by Pulitzer Prize-winning composer David Lang (of the Bang on a Can collective) to give voice to his eerie cycle death speaks.
Shara sees the chance to sing someone else's music as a liberating opportunity. "One's own songs are so personal, and so you know it and have an intimate way of singing those songs," she says, but "sometimes 'knowing' means that you get stuck in a rut and can't see your own tune in a new light, so you have to challenge yourself to approach your own material like an improvisation at times in order to stay fresh."
The challenge is to inhabit another composer's music as intimately as if she had written it herself. "When you go to sing someone else's tunes," says Shara, "you really want to apply that same level of investment to their work as you have to your own."
Penelope's lyrics, by playwright Ellen McLaughlin, interweave the story of Homer's Odyssey with that of a woman whose husband returns from a more contemporary war so damaged that he is no longer himself.  Shara points out that the multilayered piece is also an opportunity to exercise the more dramatic side of musical performance.
"There are at least four different voices in this text," she says, "and I'm enjoying approaching it from more with actor eyes, and allowing the characters and their journeys to really let something different happen in my voice."
The concert takes place at 7:30 at the Hilbert Circle Theatre. Edwin Outwater will conduct. Tickets are here.
[vimeo width="542″ height="305″]https://vimeo.com/16319487[/vimeo]