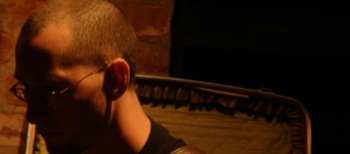 Photo by Adrianna Lucero-Shlarb
Chris Schlarb's Twilight and Ghost Stories should appear in your local record store next Tuesday, and is already available for preorder and full preview on our site here. But even though the nearly 50-collaborator composition is in the can and out the door, Chris hasn't slowed down.
In a testament to the vast net that Chris cast to create Twilight, collaborators from across the U.S on the album will be appearing in their corresponding cities to perform and present a specially crafted quadraphonic version of Twilight. Cities include Long Beach, Indianapolis, Brooklyn, Austin, Chicago, and Bogart. See details here. Chris will also perform Twilight live, along with Liz Janes, at Next to Last Fest in Athens, Georgia on December 8th and 9th.
Finally, Chris has taken section IV of his composition and untangled all the contributions from artists like Sandy Ewen and Aaron Russell of The Weird Weeds (as the Macaroni Band), Dave Longstreth (of Dirty Projectors fame), avant reedmen Lynn Johnston and Bhob Rainey, Patagonian, uber-bassist Orlando Greenhill, Languis, Sebastian Krueger (of Inlets). He's set them free into WAV or GarageBand format for the Internet-at-large to rearrange and remix. That means you! Go here and give it a shot.