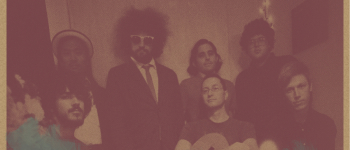 In 2007 we released
Twilight & Ghost Stories
, a 40-minute modern composition by Long Beach based
Chris Schlarb
. By tying together dozens of pieces of music from dozens of musicians, Schlarb not only used
Twlight
as a sort of personal catharsis but as also a way to show that we are all connected. You can stream
Twilight
for free or buy it in MP3 form
here
for $5.
Now, three years after releasing
Twilight
, we are so proud to announce Chris Schlarb's second record. Enter
Psychic Temple
, an album that draws from the methodology of
Twilight & Ghost Stories
to coordinate a 29-member ensemble into a fully realized and mature synthesis of live ambient, jazz, and folk. The album drops in three weeks. Read more about the release
here
.
We are releasing
Psychic Temple
in conjuction with sister label
Sounds Are Active
, who will be using Kickstarter to fund a limited edition gatefold vinyl pressing. There are only 30 days to raise $3,555. You can be a part of this project
here
. Rewards include a
Psychic Temple
poster designed by Jason Munn, hand written sheet music, and the acoustic guitar featured on the album cover.
In the meantime, please enjoy this excerpt from the first track.