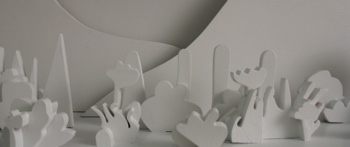 In about a week, Unusual Animals will arrive in Houston and Portland. As is protocol, we have incorporated artists from those two events into the blustering airwaves of akradio – which you can access by clicking on akradio just below our banner.
But that's not all in UA news. When Unusual Animals first crawled onto land, it did so from a pool of oozing vinyl in the from of a limited print double side series featuring eclectic experiments by Asthmatic Kitty Records artists and friends. From there, the idea propagated into Unusual Animals Parties, live events with an Asthmatic Kitty artist highlighting local fringe musicians and businesses. Now, catalogers will have to change their genus-differentia of Unusual Animals to include art, with the evolution of this project into the Unusual Animals Project Space in Indianapolis, Indiana.
On October 31st, UA Project Space, Asthmatic Kitty Records, and Kangaroo Press present the official debut of the specialized gallery, along with live music by Castanets, newly announced Cryptacize, Deer Tick, and Bronze Float. The Harrison Center for the Arts, a gallery with studio space housing 23 artists and VSA Arts, is hosting the UA Project Space. Music will be in the Harrison Center Underground.
Because the Unusual Animals Project Space will promote installation art from aspiring and established artists alike, local and national, it will be the first of its kind in Indianapolis. Cindy Hinant, the Space's first artist and co-curater with our very own Michael Kaufmann, will present Cascades, a representation of Hinant's personal mythology with nature. The environment will combines images from popular culture and childish shapes to describe the relationship she has with the natural world.
Doors open at 7pm on October 31st. Admission is $6.