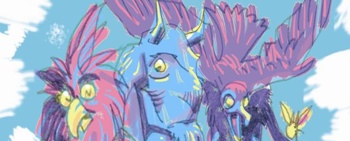 We didn't think it was possible either, but here they are, staring at us from the darkness of two sides of the country: two herds of Unusual Animals appearing at the same time, one in Houston, and then this variant, peering up from the waters that run beneath the bridges of Portland.
Our own Half-handed Cloud will be there of course, making the migration from the coast, but so too will indigenous Portland booty-shaking The Beauty, the lo-fi-ically precise Upsidedown Cat, and the charmed-before-you-know-it Kelli Schaefer, as well as nearby Olympia Washington's hand-clapping Lake.
Film too! Thanks to The Journal of Short Film, who must have tossed the right kind of fish food into the Columbia river, these Animals also include works from acclaimed filmmakers like Jeremy Bird, Uli Beutter, Ryan Jeffrey, Karl Lind, Matt McCormick Vanessa Renwick, Stephen Slappe, and Chel White.
Yes, there will be puppetry.
Did we say this is for humans of all ages, and free? It is.
Click more to see an illustrated representation of the Portlandian Unusuals by Jesse Hamm.