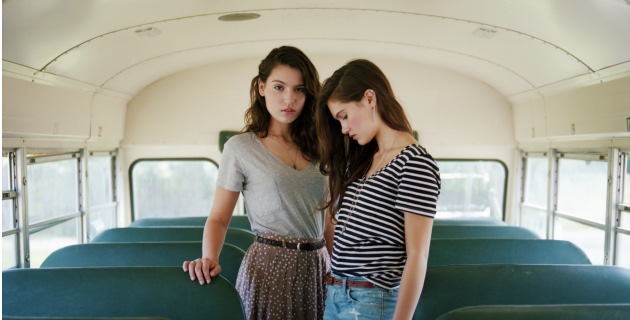 Lily and Madeleine are hitting the road for the first time.
"We're kind of making it a family vacation," explains Lily Jurkewiecz, the younger of the two sisters that make up the acoustic duo.  Lily and Madeleine, who followed up their viral video success by recording an EP of original material, played—and sold out—their first-ever live shows earlier this year. Now their EP, The Weight of the Globe, has been picked up for a June 11 release by Asthmatic Kitty, and the duo is set to make a handful of appearances in the Midwest and Northeast.
The sisters kick off the summer with a show in their hometown of Indianapolis this Saturday, June 8, in the Deluxe Room at the Old National Centre, followed by their first-ever East Coast show at Joe's Pub in NYC on June 11, and a June 12 performance at World Cafe Live in Philadelphia.
They're also excited about their upcoming performance at the Clawhammer festival in Oshkosh, WI, from July 20-21. "I'm looking forward to connecting with other musicians," says Madeleine. "That's going to be neat."
Are they anxious or intimidated at the thought of playing their first shows outside of Indiana? No, Madeleine laughs. "People have asked us that, and I think like, 'Am I supposed to be intimidated?' I feel really good about it. It's going to be like a whirlwind, I think, but we're just along for the ride."
After the full-band sound of Weight of the World, these live dates mark a return to the stripped-down sound of the duo's home recordings—accompanying their own voices on keyboard and guitar—but the two look forward to heading back into the studio with the new material that they and songwriting partner Kenny Childers (Gentleman Caller) have written for their first full-length album.
The sisters hint that we can expect the new material to be slightly more optimistic that their melancholy first recording, thanks in part to the possibilities opened up by their sudden musical success. "The EP was mostly about the feelings of like anxiety and restless that come with being a teenager—teen angst—but the new stuff is more about the excitement of this new adventure" as musicians, says Madeleine; it's "more positive. We're excited about it."
These summer dates mark a rare chance to see the two perform live. Lily is heading into her senior year of high school this fall, and Madeleine is off to start her first year of college. They're taking their parents and younger brother along to the East Coast dates, which they're looking forward to not just as a performing opportunity but as a change of scene.
"We don't know what to expect from New York," says Madeleine. "I've just been there once, and Lily's never been."
"It'll be fun," says Lily. "It'll be a family adventure."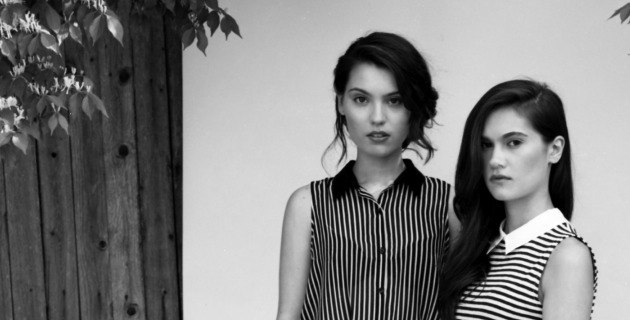 Director/photographer Allister Ann seems to have nothing but warm words for sister duo Lily & Madeleine, whose first music video drops today. Released in advance of their Asthmatic Kitty EP, The Weight of the Globe, Ann's video for "Back to the River" marries the melancholy track to black-and-white footage of the sisters.
"Even though the song itself is very slow and almost nostalgic," says Ann, "the girls' vibrant charm needed to be portrayed, so what we hopefully ended up with is a good balance of representing the music and the artists."
For Nashville-based Allister Ann, that meant balancing the sad nostalgia of the song against footage capturing the duo's easygoing personalities. She scouted locations around the two young women's native Indianapolis that matched the timeless qualities of the track, and wardrobe stylist Mizzie Logan outfitted the girls in a classic look to match.
"It was wonderful going into a town with a fresh pair of eyes," says Ann. "The architecture and history of that city was so inspiring, with bits and pieces that reminded me of old Europe. Ultimately I chose places that I thought would best represent the feel of the song."
The result is a clip that manages to seem nostalgic for the present, as if capturing the singers' youthful energy in a time-capsule of vintage home movies. Ann says that he shoot itself was as much fun as it looks: "Lily and Madeleine are so sweet, kind and talented; they made everything effortless and were so easy to work with.
"Best of all," she adds, "I made some new friends."
See the video on Vogue.com here, or below.