On August 8th, we will release Awe Owe, the debut album from Helado Negro (aka Roberto C. Lange). Until then, Roberto is keeping us busy trying to catch up.
First there's the video, above. Directors Chris Keohane and David Ellis shot it with an SLR still camera in Roberto's Brooklyn apartment under smoldering lights. They composited these with excerpts from Ellis's Droptet series, and set it all to the cautionary Helado Negro song "Dahum." We think the results are well worth the sweat and work. View the HD version here.
In other "Dahum"-related news, composer, multi-instrumentalist, and Tigerbeat6/Sonig recording artist Nathan Michel has created his own take on the song with this fantastic remix. Check out the Nathan Michel remix of "Dahum" here.
There's also the mini-album #TuiteroRoto, which literally means "broken tweeter." It also is a way for Roberto to experiment with the limitations of brevity. He is posting an MP3 track of less than 30 seconds via the modern epitome of shortform, Twitter, several times a week until complete. Follow its construction here on Twitter.
And finally, in collaboration with Brooklyn musician and occasional Yeasayer drummer Jaytram, Roberto has put together "Falling Down," a mixtape designed to turn you onto a feeling as you listen and not just the mixtape's music. Roberto calls this a "Monday-Friday" mix and requests that you break it up throughout the workweek. Download it by clicking here.
And yes! We have opened up preorders for Awe Owe. Click here for the CD ($10) and here for the LP ($12).

Photo by Kristi Sword
For those of you in the New York area, be sure to catch the debut performance of Helado Negro at the Sycamore on June 12th, featuring Roberto Lange on various instruments and vocals, Nathan Michel on percussion, Isaac Lekach on guitars and vocals, Joe Stickney on drums, and Oliver Chapoy on guitar and bass. Get more info here.
If you are looking for some tunes to kick off your summer lounging we recommend you head over to Fader.com and grab Roberto Lange's and Jaytram's Elastic Island mix. Read and listen here.
Not one to be satisfied by the soundless and at times lifeless 140 characters of the twitter format, Helado Negro has hijacked the twitter-waves to offer up an ongoing series of "musical tweets". #TuiteroRoto is a collection of 30 second soundbites to accent your twitter experience. Be it My Brightest Diamond ticket giveaways, I Heart Lung tour economics, Future Rapper's…well, whatever it is that Future Rapper does, there are plenty of great reasons to follow our artists as well as the label on the old twitterbox.
Twitter:
Helado Negro – http://twitter.com/HeladoNegro
Shannon Stephens – http://twitter.com/S_Stephens_AKR
My Brightest Diamond – http://twitter.com/zosima
DM Stith – http://twitter.com/dmstith
Chris Schlarb – http://twitter.com/schlarb
Future Rapper – http://twitter.com/futurerapper
Asthmatic Kitty – http://twitter.com/asthmatickitty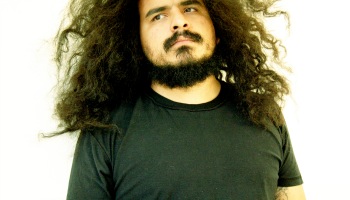 Roberto C. Lange is one of those guys who is inherently and instinctively prolific; to list everything he's done in the last few years would just make create a lot of extra work for bullet points. Instead, suffice it to say that we here at Asthmatic Kitty are lucky enough, and proud, to be home for Lange's latest project: Helado Negro.
Formed since he moved to NYC in 2006, Helado Negro is the culmination of years of musical experimentation and experience synthesized with the vibrancy of the Brooklyn musical and art culture. Musicians and bands like Prefuse 73, Feathers, and Stars Like Fleas (among others) all contribute members in some form or other. Inspirations for sound are as diverse as they are numerous. This album is steeped in DJ, art, and multiculturalism.
We have had the fortune to hear the first produce of Helado Negro, a remarkable full-length album Lange has titled Awe Owe – "ah!" for realization, "oh?" for the never-ending pursuit of learning. It is an absolutely terrific and compelling listen.
We will release
Awe Owe
August 4, 2009. That's good timing, because this album of latin experiment and exploration is the perfect music for sitting in a saggy lawnchair in the swelter of summer, watching everything pass by from the comfort of your porch while
Awe Owe
weaves its way from your boombox to your ears. You can read about Helado Negro
here
, and
Awe Owe
here
.
« Previous Page