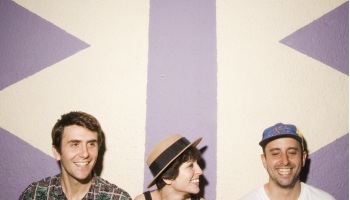 Photograph by Sarah Cass


Ok. Welcome, everyone. Yes, I see that many of you already have the hand-out. Good good. Terrance? Please start the projector. We have a lot to cover today, and it's all good, so stick with me. Excellent. Let's get to the issue at hand: the wonder, the movement, the belief . . . that is . . . Cryptacize.

Tour. They're touring. Right now the Official Cryptacize Van of Touring – you have the IP on that Danny? – is slowly making its way across the Midwest of the US. Eventually it will make it to Boston, New York, south from there to Austin and Los Angeles. Please save questions for the end and yes, they are visiting the UK not long after that. You'll see it on page 84, or you can click here.

Ok. Next. Karaoke. "The act of singing along to a music video, esp. one from which the original vocals have been electronically eliminated." It's hot, it's what the kids are doing, and Cryptacize are definitely in with the kids. They're karaoke-ified one of their songs for the karaoke-ing masses. It's a contest, there's dough involved. A fantastic video viewable here – good job to Kristen's team on that, no clapping please. Who's that scuba diver? Get him on the next project Tom.

Yep, you read right. Cash prize of $150. Details on page 133, or here. Please remind your staff that submissions are due June 15. EOW. STAT. PRONTO.

And finally, Sufjan turned in some nice copy on the band. You're missing it Jesse? Terrance, share yours yes? A good read. "Magic crystals." Good one. We'll use that for the toothpaste project. And the scuba diver. Nice. Read here.

Anything else? I think that covers it. Jeff, you heard right, no weekend overtime, and I was lying about taking questions.

« Previous Page