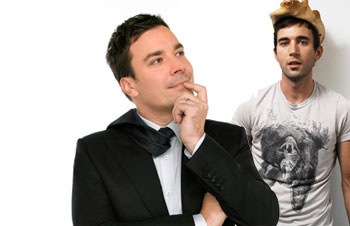 As you can see above in a very expensive and time-consuming simulation generated by our Official Asthmatic Kitty Department of Photoshopical Reality Generation, Jimmy Fallon has been thinking about Sufjan Stevens. Or maybe he hasn't and his people just booked Sufjan to perform, in which case we'll be canning the entire department for an inaccurate representation. Either way, Jimmy Fallon will be watching Sufjan Stevens perform on his show on November 19th.

You can watch along with Jimmy if you tune into NBC's
Late Night with Jimmy Fallon
that Friday night at 12:35am (technically Saturday morning we guess). Or, if you're in the vicinity of 30 Rockefeller Plaza NYC that night, you could sit on the show's super special exclusive "Band Bench." We think that means you get good seats somewhere near Sufjan's band. Go
here
, and use the code "SUF" (generated by our Official Asthmatic Kitty Department of Poor Code Generation) for your chance to warm your buns on the said band bench.
UPDATE: Our own
DM Stith
will also be performing in Sufjan's band!