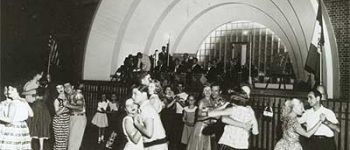 Summer in Brooklyn: friends, fireflies, stoop sales, racial tension, black-outs, car theft, homicide, real estate busts, and…Celebrate Brooklyn! Where the World's Greatest Borough puts on the World's Greatest Summer Festival in the World's Greatest Urban Park. That's what we call Prospect Park!
Our Very Own Megalomaniac Master of Musical Disguises Sufjan Stevens will be making a rare outdoor appearance at the infamous bandshell on Tuesday August 2, 2011 for the annual
Celebrate Brooklyn!
festival. He'll be performing with his 10-piece intergalactic ensemble of musical muppets from the Age of Adz tour. What does that mean for you? Do the math: Prog-pop space jams + extra-terrestrial dancers + excessive neon gaff tape + cosmic eurhythmy + hot booty moves + a frenetic video display + hometown advantage = Life Affirming Summer Spectacular Event of a Lifetime (and other superlatives).
Did we already say it's outdoors? Under the Brooklyn sky, surrounded by sycamores and flickering fireflies, and city smog…This is a rare treat! Sufjan does not typically play outdoor stages. Nor does he have any festival appearances scheduled for 2011. This is your last chance to see
Adz
in all its glory! And we promise it will be a total blow-out!
Tickets for the show are will go on sale for general public on Friday, but you can get special preorder tickets for $35 (+fees) from Etix on Wednesday April 6th. Those tickets will be at this link at 10AM EST April 6th:
http://bit.ly/gauVaq
. The password is (whisper): Heirloom.