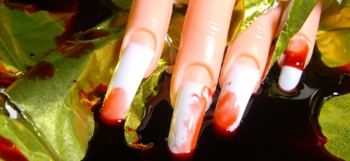 Photo by Lizeth Santos
Not so long ago, Rafter and his girlfriend Lizeth Santos embarked on an experiment wherein they created an art project a day. Lucky for us, this resulted in a plethora of interesting songs and photographs for our Sidebar (which shall return!).
Those are gone now, but luckily Rafter and Lizeth have transformed them from the chrysalis of that original experiment into a myriad of new expressions. One is Rafter's sweet and perfect Sweaty Magic EP, and another is Lizeth Santos' upcoming art show at Pehrspace in Los Angeles.
Pehrspace will be exhibiting Lizeth's work from October 11th to November 5th. The opening on October 11th, from 9pm to 12pm, will feature a performance by Rafter at 10pm and is free. Click here to go Pehrspace's website, or here to visit Lizeth's website.
(Bonus: I Heart Lung performs at Pehrspace just a couple days after on Monday night!)