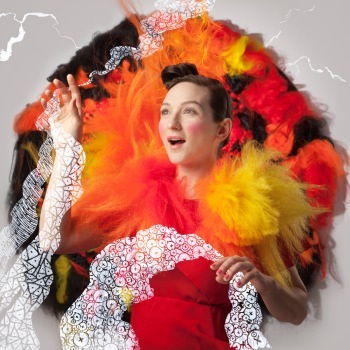 Cover art by Photographer: Denny Renshaw; Hairsculpture: Hrafnhildur Arnardóttir aka Shoplifter; Design: DM Stith; Hat by Emillner
On October 18th in the US (October 10th in the EU), we will have the very, very lucky honor of releasing All Things Will Unwind, the third album from My Brightest Diamond.
Things have changed for MBD frontwoman Shara Worden since 2008's
A Thousand Shark's Teeth
; a move from Brooklyn to Detroit, a new baby boy, a new backyard garden, and a whirlwind of brilliant collaborations with the likes of the Blind Boys of Alabama, The Decemberists, David Byrne, and many others. Likewise, this third album represents a slight tact change from the more direct guitar-rock underpinnings of
Shark's Teeth
and her 2006
Workhorse.
Less guitar strings, more, well, chamber strings.
But some things have stayed the same, too: Shara's relentless pursuit of pure, good sound, her rebellion against "genre," her remarkable understanding of tempo and the way it bends, and her fearless song-writing. We think All Things Will Unwind is not just a third album, it's a picture taken in time of an artist maturing; someone that is deeply considering joy and pain, beauty and horror, and then singing about it.
Read more info
here
. You can also hear and download the first single, "Reaching Through to the Other Side," below:
"Reaching Through to the Other Side" All Things Will Unwind (Download)