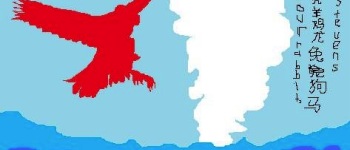 MS Painted by Alex Bristow
Ok, sometimes we're a bit slow to intriguing things on the Internet. In fact, we are just now discovering, with great joy, "Paint My Album." Last year a couple guys from Manchester, UK decided to redo classic album art with the prolific Microsoft Paint (aka MS Paint – wikipedia article here). As things like this on the internet are prone to do, the idea snowballed. There are now over 1300 submitted album covers. You can see them on the project's webpage right here.
Unfortunately, we feel like AK is under-represented. And hopefully, that's where you come in. We'd like to compile an index, even if just for our own benefit, of our entire catalog redone in MS Paint. Alex Bristow of Bristol knocked out Enjoy Your Rabbit, and Alex Grantham of Manchester took care of Illinois (note lack of spandex-donned Superhero). But we would love to see more!
If you're up to the challenge, we'll give you something in return. For each decentish attempt at recreating an AK album cover in MS Paint, we'll thank you by giving you digital downloads of DM Stith's BMB EP, and our as-of-yet unreleased brand new AK sampler.
Our favorite submissions will get a choice from digital downloads of Shannon Stephens' The Breadwinner, Castanets Texas Rose, The Thaw, and The Beasts, and Royal City's self-titled retrospect.
We'll post all the redone album art on our Flickr account, and highlight our favorites in a news item here on asthmatickitty.com. For details, click on more.
Email the image, which must have been created exclusively in MS Paint, to [email protected] Include the following:
Your Full Name
Your hometown, state, and country
The image at 350pixels x 350 as an attachment
Your website (if applicable).
Album art is available on each release page here on asthmatickitty.com.
We reserve the right to end this contest at any time.