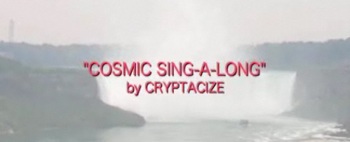 Is Cryptacize tired, you might ask? They've released an album, embarked on many far and wide tours since that album. That would tire me, you might say.

To which Cryptacize would say, "We are not tired. We are tireless. But we do need your help." They are touring again, this time drawing a big circle of music around the United States: trekking across the Midwest (Chicago), then to NYC, down to Balt-ee-more, then to Knoxville, on to Texas, and back to California. If you've missed them on a previous tour, don't think this will last forever! Cryptacize is rare and flighty!
"They said they need my help," you might remind us. It is true. To fuel their explorative journey across the United States, they are hoping that all peoples of the Internet join them in song, that is to say, karaoke. As their record label, we are happily sweetening the deal with cash prizes.

Record a karaoke version of "Cosmic Sing-a-Long" and email the mp3 to akcontest [at] gmail [dot] com, or post your video to YouTube or Vimeo and email the link to that same email. You can sing as a group or solo, make up new lyrics, choreograph dance, puppets, employ special effects and extensive CGI and/or stop-motion, or anything really. Points galore for creativity.
Deadline is June 7th. We'll announce the winner on or around June 15th. Get karaokeing!!!
Click here to view the video in Vimeo, or click more to view. And click here to download the Karaoke MP3, or here for the original.

THE COSMIC SING-A-LONG CRYPTACIZE KARAOKE CONTEST from Asthmatic Kitty on Vimeo.