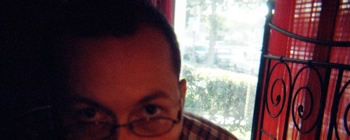 Photo by Adriana Schlarb
Pegging Chris Schlarb down into one category is a tall order. He teaches music, he plays jazz guitar, he's founded a record label and a fifty member free form ensemble and a free-jazz-drone band, he's a husband and father, and . . . well, we could go on, for a long time.
That's why it's so lucky that we've managed to peg him onto our artist roster, and we're honored to do it. Of course, he's already been hanging around for a while; Chris has worked with Sufjan Stevens, Castanets, Liz Janes, and Half-Handed Cloud already on more than one project, so it's just natural that he's part of the crew.
And he brings with him his first release on Asthmatic Kitty, Twilight and Ghost Stories, a delicately crafted forty-minute composition that somehow manages to incorporate all of the above. We'll be releasing it on December 4th of this year. In the meantime, you can read his bio here, or an album description here.