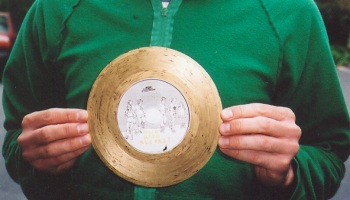 What happens when one progressively old-fashioned Asthmatic Kitty artist collaborates with a husband and wife independent book press? One very impressive performance! We are pleased to announce that on Thursday, June 26 our own Half-handed Cloud and London's Henningham Family Press is transforming the Foundry basement into a spinning 12-foot vinyl record which will be used to perform never before seen or heard art! This is an event that will bring live performances and formats to a whole new level.
Half-handed Cloud (John Ringhofer) has always been a fan of releasing his songs in less-used (some might say more 'antiquated') formats. His releases in vinyl and cassingles have one over our hearts, and ears. It follows that with the screen-printing and book-binding talents of David and Ping* Henningham a collaborative event that brings together the pressing of a vinyl record with the pressing of a book would take place.
This FREE event will take place at the Foundry (86th Great Eastern St.) in London on June 26th at 7:30 pm.