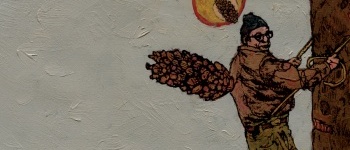 We've all been hankering for some more Half-handed Cloud-ness, and boy are we in luck. Come this November 3rd, we here at Asthmatic Kitty will have the great pleasure of releasing Cut Me Down & Count My Rings. It's a collection of songs from previously-released EP's, vinyl singles, CD-R's, compilation appearances, original versions, download-only tracks, unreleased tunes, a cassingle, and a trio of Christmas songs from the past nine years. Many of these songs are making their very first appearance on compact disc, and none of them are on Half-handed Cloud's four full-length albums.
Collected by leadman John Ringhofer as a portable library of tunes on a single disc, Cut Me Down is a curation of forty-six songs (46!), previously only available in nearly as many places. Listened consecutively, the 46 songs track the career of one of our favorite performer/songwriters in the world. Concepts and instruments fade in and out of Ringhofer's repertoire as the album progresses.
The
Cut Me Down
CD includes packaging and a poster with paintings by Ringhofer himself, and a descriptive writeup on the background of each original release, perfect for those nights when the conversation turns to HHC trivia (which happens often around here). Read about the release
here
.