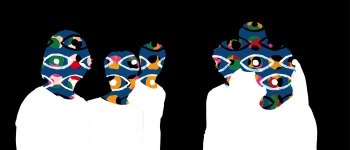 So, Fol Chen. Desert dwellers. Underculture purveyors. Marketers of glitz and glam. Let's talk.

You know David Bowie right? Fol Chen remixed his lovely 1975 "Golden Years," the leading track to his supposedly cocaine-fueled (and non-supposedly brilliant)
Station to Station
. And Fol Chen does it some serious justice, for KCRW's DJ Eric J. Lawrence's remix-travaganza celebrating the re-master of the album. Hear it (and other great takes on the song)
here
. This remix is so captivating, British music Simon Reynolds said it "
gobsmacked
" him. Sorry about that Simon.
You may also have heard of Sufjan Stevens. Yes, Fol Chen covered him too, pulling from the pop-rich lyrically-morose "I Walked." Leading vocals on the cut is
Simone White
, and when Fol Chen+Simone White/Sufjan Stevens, you get a ballad hit optimus-transformed pop hit. We dare you to listen and forget about it. We triple-dare. Try, on Pitchfork,
here
.
Finally, Fol Chen wrapped up a score on a new documentary from filmmaker Lauren Greenfield, entitled
Beauty CULTure
. It just premiered, and will be up at the
Annenberg Space for Photography
for a few months. Similarly, Greenfield's "Fashion Show" mixes filmed footage with still photography of runway shows, all set to Fol Chen's "The Longer You Wait." Watch it
here
.
Did we say Fol Chen has been in the desert? Strange things happen there.