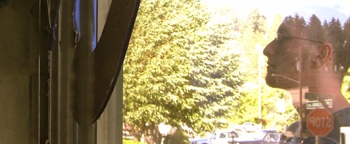 Photo by Adrianna Schlarb
Our newest addition to the Asthmatic Kitty roster has been busy, even though his album doesn't release until December 4th. Pitchfork Media got their hands on a copy of Twilight and Ghost Stories, and reviewer Joe Tangari said this: "Twilight is a unique and remarkably universal record, and one that offsets its projected loneliness with a great sense of warmth. Indeed, it's perfect for listening to in the very circumstances that birthed the concept, when you're alone with the weather, wondering what to do." Read the review here, which is bundled with a review of another Schlarb project, I Heart Lung. Their newest album, Between Them A Forest Grew, Trackless and Quiet, is available for $10.99 here.
We don't want anyone going Schlarb-less, so we've gone ahead and started taking preorders for Twilight on the album's page here. It's $10 plus shipping, and we'll ship it around December 4.
One of the great things about Chris is how personal he is, and this is reflected in the album. You can read his blog here, but we wanted to highlight one of his recent posts if only to emphasize how prolific he is. Click on more to read one of his dispatches.
Friends in Other Dimensions
I haven't gotten much sleep this past week. I spent four days recording a plethora of L.A. bands for a new Sean Carnage film, Friends in Other Dimensions and one night talking to a small but enthusiastic music business class at West L.A. College.
Last Tuesday I was summoned to Pehrspace to record one of my favorite local bands, HEALTH, who were leaving on a US tour the following day. On Thursday night I spoke for almost three hours at the bequest of teacher and musicologist Nathan Bush. Clearly passionate and determined to educate themselves, I enjoyed sharing my experiences and opinions with the students in attendance. It felt good to put some of this information to good use. People ask me about running Sounds Are Active all the time, maybe one of these days I'll write a book. I'd better hurry up though, the music business may be ending soon.
Without much time to catch my breath I was an emergency hire to engineer three more days of recording at Pehrspace. Excluding HEALTH, I ended up recording all of the bands or artists in 72 hours: Bad Dudes, Foot Village, 14 Year Old Girls, the Munchers, Bark Bark Bark, Ty Segal of Epsilons, Whitman, Anavan, Laco$te, Weekend Warrior, Kyle H. Mabson, Robin Williams on Fire, Tik/Tik, IE, Holi Buffaglow, Abe Vigoda, Team Andrew, Bon Voyage, Juiceboxxx and The Mae Shi. Each were set up with a full studio quality mic rig and recorded in full 8-channel audio. The bands paraded by essentially in rotating fashion:
noise, punk, metal, pop, rock, electronic, faux-hop, dance, folk, no wave… sounds like a Sean Carnage film doesn't it?
Sleep might be for suckers but my headache is coming back.