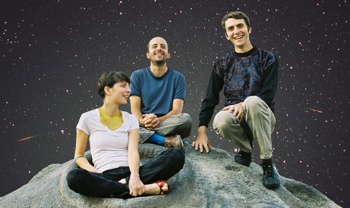 Cryptacize has joined the Asthmatic Kitty family, and everyone around here is happier for it. Here is why:
1. The band was birthed near C&H Sugar Factory, which you can take a panoramic tour of by clicking here.
2. The band's name comes from a toothpaste-related incident. However antithetical that sounds due to the bands' proximity to a sugar factory, it is true.
3. This cowbell video on YouTube. If you watch it, your eyes will text message you "WE R AMAZED."
Together, Chris Cohen of The Curtains and formerly of Deerhof, soloist Nedelle Torrisi, and percussionist Michael Carreira are on a mission. We didn't bother to ask them what it was though because we were too busy tapping our feet to their beat, but if the crusade is as pleasant to ingest as their music, we're in.
They mean business. You can tell because of the look in their eyes, and their upcoming tourdates. They promised to release an album one day and we're holding them to it. We'll let you know more when we can. Click here for their artist page.