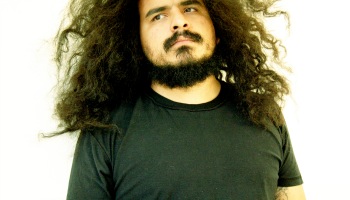 Roberto C. Lange is one of those guys who is inherently and instinctively prolific; to list everything he's done in the last few years would just make create a lot of extra work for bullet points. Instead, suffice it to say that we here at Asthmatic Kitty are lucky enough, and proud, to be home for Lange's latest project: Helado Negro.
Formed since he moved to NYC in 2006, Helado Negro is the culmination of years of musical experimentation and experience synthesized with the vibrancy of the Brooklyn musical and art culture. Musicians and bands like Prefuse 73, Feathers, and Stars Like Fleas (among others) all contribute members in some form or other. Inspirations for sound are as diverse as they are numerous. This album is steeped in DJ, art, and multiculturalism.
We have had the fortune to hear the first produce of Helado Negro, a remarkable full-length album Lange has titled Awe Owe – "ah!" for realization, "oh?" for the never-ending pursuit of learning. It is an absolutely terrific and compelling listen.
We will release
Awe Owe
August 4, 2009. That's good timing, because this album of latin experiment and exploration is the perfect music for sitting in a saggy lawnchair in the swelter of summer, watching everything pass by from the comfort of your porch while
Awe Owe
weaves its way from your boombox to your ears. You can read about Helado Negro
here
, and
Awe Owe
here
.