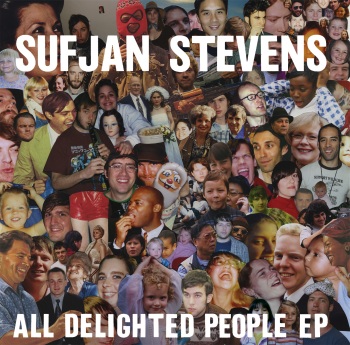 Raise your hands if you're delighted to hear the good news that Sufjan is releasing an 8-song, 60-minute EP for digital download! Available immediately right
here
! As in right now! For only $5! From this up-and-coming-indie-DIY website, Bandcamp! (It will be available on iTunes, Amazon, and other corporate entities on Monday.)
The EP,
All Delighted People
, is built around two different versions of Sufjan's long-form epic ballad "All Delighted People," a dramatic homage to the Apocalypse, existential ennui, and Paul Simon's "Sounds of Silence." Sounds delightful, yes! The song was originally workshopped (oh we hate making workshop a verb, but time is money!) on Sufjan's previous tour in the fall of 2009. Other songs on the EP include the 17-minute guitar jam-for-single-mothers "Djohariah," and the gothic piano ballad "The Owl and the Tanager," a live-show mainstay (and Debbie Downer if you ask us; what's it doing on a "Delighted" EP?). The full track list is available right
here
.
If you don't have five dollars, you can stream the EP for free right on Bandcamp. Or if you're into tactile sensations, we are making All Delighted People available on single-CD and double-LP formats later in 2010 (we're aiming for December, fingers crossed). 180-gram vinyl. With Big Pictures. Where's Waldo? Leo?
OH! In case you haven't been reading along, Sufjan is also on tour in the fall. Tickets are selling furiously, so we recommend you order them soon, as in now! Seriously! Do it! Urgency! Haste!
Right here
!