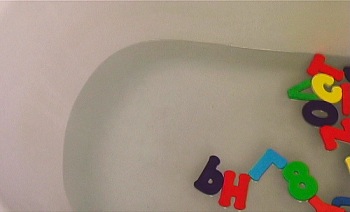 Today at Asthmatic Kitty we are launching a new project we're calling "Labels by Alphabet." Each week we'll move through the alphabet and post a new writeup and akradio playlist that highlights a different label. Today we start with anticon., which you can read by clicking here. Michael Kaufmann, A&R/Development here at AK, elaborates:
"I have the alphabet on my brain. I think this is connected to my 3 year old son's addiction to Elmo. Or maybe it's the librarian in me, a need for taxonomy and order. Regardless, I have a fascination with working my way through the alphabet. In its first incarnation, my family and I ate our way through the alphabet of fine family dining establishments: Applebee's, Bennigan's, Cheeseburger in Paradise, Don Pablo's, etc. Now that I have had my fair share of laminated menus and exploding chocolate desserts, I've turned my life cataloging skills to record labels — from the corporate sellers of bottomless nachos to the music industry's small business owners.
Asthmatic Kitty is going to take the next few months to celebrate labels we feel have integrity and good taste. Every week we will celebrate a different record label and provide you with a brief description in the sidebar as well as a streaming radio playlist in our akadio player. We want to acknowledge and honor folks who are doing things their own way and releasing music that is important for the world to hear. We also want to take a moment and do the exact opposite of what we should be doing, promoting others instead of ourselves. Not because we want to fake some sort of virtuous humility, but because sometimes the best business decisions are counter-intuitive. Supporting and promoting independent music in general is good not only for these other businesses but our own.
We know in our hearts it's the right time to do this, to point folks to some new, independent and important music. Consider the music scene's current climate. i.e. ad revenue supported streaming; social neckworking [sic]; co-branding with corporate style brokers; and the the criminalizing of music discovery via peer-to-peer file sharing.
We need to be reminded of folks "doing-it-themselves" by breaking barriers and embracing the unpopular. Our community needs to be celebrated and fostered as much as it's is casually torn down by blog comment fashion politicking, cultural gatebullying, youtube comment hate-mongering. Consider this Asthmatic Kitty's self-medicated solution for cynicism, a dose of joyous excitement about the incredible music being made and released from A-Z. If any one else wants to join us, we welcome you!"