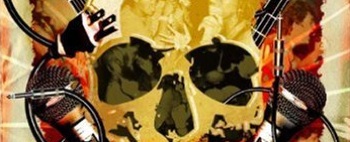 If you haven't noticed, all the money is in ringtones these days. The major record labels love charging their fans $3 for 30 seconds of music. And, apparently, some fans love paying for them. Welcome to the future.
So take the concept of the ringtone, and add in a little Mad Max/Waterworld/Planet of the Apes and multiply. What you get is 40 Bands 80 Minutes!, the visual record of a night in which forty L.A. bands emerged from their underground shelters to perform in 2-minute bursts; shared equipment, no second chances. Among the those Beyond Thunderdome: No Age (in their final performance as Wives), HEALTH, Abe Vigoda, Bizzart and Rob Williams, who breaks his own Guinness World Record by making a sandwich with his feet.
Directed by Sean Carnage and executive produced by our very own Chris Schlarb, who performs with his guitar/drums duo
I Heart Lung
. We recommend purchasing the DVD from Sounds Are Active
here
.