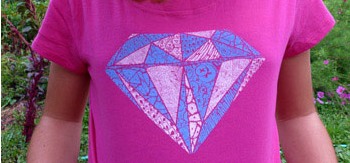 We'll speak it plainly: these are terrific t-shirts, and My Brightest Diamond through and through. Longtime MBD collaborator David Stith designed the shirts, while Detroit-based Inkinbloom screen-printed them from their own home using non-polluting and biodegradable inks and emulsions.
For the womens' shirt, they printed on the Berry colored Bella B8101 (click here for info and sizing chart). The mens' they printed on a Lieutenant Green American Apparel shirt (here for those details and sizing chart).
Purchase the t-shirt and a full MP3 download of My Brightest Diamond's All Things Will Unwind for $20. MP3 delivered via email on October 18th, 2011. Click here to buy.