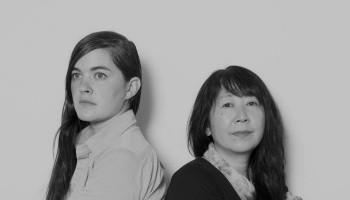 RVNG INTL. is releasing FRKWYS VOL. 6 on 12" vinyl in a few weeks, and it includes four pieces composed and performed by our own Julianna Barwick, and Ikue Mori of DNA as part of a month-long installation at White Columns gallery, New York, NY.
For the installation, a particle-board cubicle was custom constructed and placed at the center of the Project Space. The cubicle wall separated Julianna and Ikue to their respective seated work stations, while web cams captured the musicians at work / play. They became interactive projections manipulated by video artist Erik Mika, illuminating this exercise in simulated engagement.

You can see videos and hear music from the installation, or preorder the 12",
here
, or stream a cut below.

This Friday, October 29th, Julianna Barwick will be collaborating with legendary drummer and composer Ikue Mori at White Columns gallery as part of their year end exhibition. RVNG Intl. invited Barwick and Mori to collaborate in the gallery's Project Room as part of RVNG's FRKWYS series (which has included the likes of Excepter and Psychic Ills). Over the course of the event, Mori and Barwick will perform four times, each piece pressed to 12 inch vinyl in real time at the gallery. An interactive projection by Erik Mika will illuminate this exercise in simulated engagement.