October 25th, 2010 , by John Beeler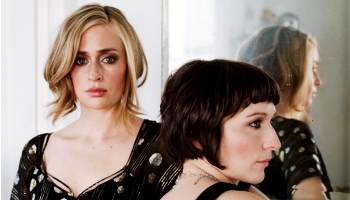 Tomorrow, October 26th marks the release of Penelope. The album is a 60-minute song cycle composed by Sarah Kirkland Snider for Shara Worden of My Brightest Diamond and the orchestral group, Signal, based on texts by playwright Ellen McLaughlin, derived from the music theater piece of the same name she and Snider wrote together in 2007-2008.
Penelope has appeared in various guises over the past two years: it originated as a music for a theater piece and then debuted as a song cycle with Signal last May. When Shara came aboard the project, Sarah revised and expanded the songs yet again, tailoring them to Shara's unique talents and arranging them for Sarah's dream cast of characters: a 25-person orchestra of strings, harp, percussion, drums, electric guitar and bass, and electronics (with sound design by Michael Hammond). The cycle grew from 40 to 60 minutes. It is yet another example of how brightly our diamond can shine!
Listen to one of the album's tracks here.
Order the incredible rich and captivating album here.
« Previous Page
—
Next Page »