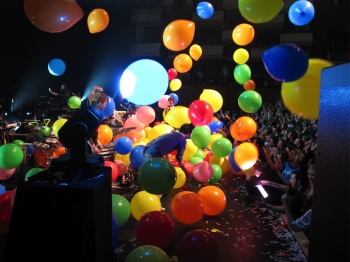 Photo by Mattias Johansson

EDIT: preorder tickets go live today (June 15) at 10AM EST at Etix.
The Password is "heirloom" (without quotes): http://bit.ly/m7EqMI
You went and did it! Undeterred by swelter and sweat and mosquitos and rising crime rates in the surrounding area, you bought all the tickets to Sufjan's Celebrate Brooklyn! show in NYC's Prospect Park on August 2. Wow! Thanks so much!
Problem though. Sufjan and crew just finished up their European tour, and people seemed to really, really like it. That's not the problem, but do check out these normally reserved British folk in the comment section on the on the 4-star
review
in the
Guardian
: "Utterly mad, utterly beautiful," "My face hurts from 2 1/2 hours of grinning ear to ear," "Ambitious, silly, indulgent and profoundly moving," "The rest of the crowd went absolutely mental." Ok, fine and good, but…back to that problem.
See, Sufjan still has an enormous overstock of balloons and confetti and neon gaffe tape. Soooo what do do? There's only one thing to do: ADD A SECOND SHOW! How's August 3rd sound? Good? Good!

This will be your last chance to see the Adz tour in all its bright, balloony glory! And to see Sufjan actually
outdoors
. Imagine
this
, but outside! For the last time! Ok, we said that it was your last chance when we
announced
the August 2nd show, but this time
we mean business
.
And by business we mean tickets. Presale tickets for the second benefit concert go on sale tomorrow from 10AM-10PM EST (Wednesday June 15th) at Etix, and general admission tickets will go sale Friday the 17th on Ticketmaster right here.