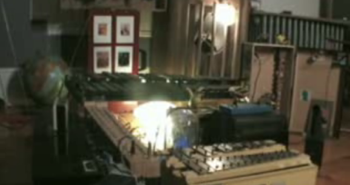 We have held contests before, but humans have always won. With our latest contest, in which Cryptacize offered up one of the songs from Dig That Treasure karaoke, it seems that a robot has finally proven worthy of an Asthmatic Kitty contest.

For the contest, Cryptacize released "Cosmic Sing-a-long" in karaoke form (you see the video here, or download the mp3 here). Entries came in from far and wide, but we had to choose someone. But it's easy to see why Trusty Nick – aka Nick Yulman – and his trusty Robot won. Click more to view the fabulous robo-aoke video, or you can also click here to go to YouTube, or here to visit Nick's website.

While we send Trusty Nick his prize ($150, CD, and LP!), Cryptacize will wrap up a US tour and then prep for a UK tour by eating lots of curry. On Wednesday night they're playing in LA at The Echo with Becky Stark of Lavender Diamond and Palms. You can view other tour dates here.
"Cosmic Sing-a-long," Robo-aoked by Nick Yulman