latest news
FOL CHEN'S TETRAFOL, AS SEEN BY HUMAN EYES
2011-12-07

A new video featuring the Tetrafol, directed by Chris Wilcha, and a brand new hot mp3 below. Enjoy the continued Fol Chen hotness, and order the Tetrfol by clicking here.

ANNOUNCING THE TETRAFOL, FROM FOL CHEN
2011-11-21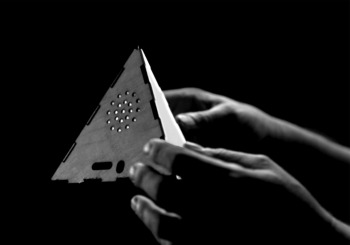 Fol Chen has joined forces with Monome and Machine Project to bring you the Tetrafol. Some of you already instinctually know what this is, because you've been waiting for it all your life.
Others may need an explanation, so here goes: The Tetrafol is a hand-held tangible electronic sound toy. Circuits enclosed by a wooden tetrahedron detect orientation and motion-gestures to modify the playback of a collection of Fol Chen's micro-compositions. Users can explore sound through objectual physical manipulation. The battery-powered device has its own internal speaker but can additionally be hooked up to a headphone or amplifier for broader consumption and recording purposes.
The circuit and firmware are based on open-source hardware and is itself published as open-source, allowing anyone interested to learn about its deepest inner-workings.
There are only 100 of these devices. You can buy one for $110 right now by clicking here. For now.
To get information about Fol Chen in your email, go here.
Hear a song created with these microcompositions below:
Fol Chen, "So Good" by asthmatickitty
GET YOUR OWN FOL CHEN SONG AT WALKER ART CENTER ON THURSDAY
2011-07-26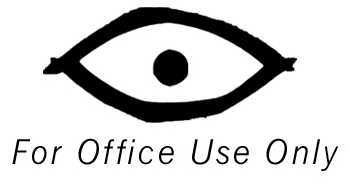 Samuel Bing and Sinosa Loa of Fol Chen have invented something amazing they call The Fol Chen Verbal Algorithm Composer-Free Song Generator. They'll debut this wonderful new process at the Walker Art Center in Minneapolis on Thursday from 2pm to 6pm.
Fill out a survey about the artwork of your choice at the Walker, bring it toBing and Loa and you'll receive a custom song on CD mere minutes later. You must see to believe. More info
here
.
FOL CHEN: DAVID BOWIE, SUFJAN. OTHER NAMES TOO. GOBSMACKED.
FOL CHEN: THEY TOUR
FOL CHEN PERFORM AND RECORD IN RUSSIA
FOL CHEN из Лос-Анджелеса проведет
FOL CHEN: VISCERATED
FOL CHEN TOURS AND GETS REMIXED
FOL CHEN NEWLY VISUALIZED
FOL CHEN RELEASES NEW ALBUM, TOURS W. COAST, PARTIES
IN RUINS, VISUALIZED BY CHRIS WILCHA
PREORDER THE NEW FOL CHEN, IMPRESS FRIENDS WITH RINGTONES
FOL CHEN RETURN WITH NEW ALBUM [FREE MP3]
FOL CHEN: NEW VIDEO, NEW TOUR, LOTS OF NEW
FOL CHEN BRIEFLY EMERGES, DISTRIBUTES FREE MUSIC, TOURS [FREE ALBUM]
FOL CHEN ARE WHAT PRINCE, JUNIOR VASQUEZ, AND BEASTIE BOYS HAVE IN COMMON [MP3]
FOL CHEN - COAL - KID ICARUS - MORE
FOL CHEN INVADE THE BRITISH, BEFORE THEY INVADE FOL CHEN
FOL CHEN BELIEVES IN LISTENING, PARTYING
FOL CHEN BELIEVES IN FREE ICE
LISTEN TO FOL CHEN FREE ON LAST.FM
FOL CHEN BELIEVES IN AIR THAT IS FRESH
FOL CHEN BELIEVES IN RECORD RELEASE SHOWS
A FISH SINGS IN THE NEW FOL CHEN VIDEO
FOL CHEN BELIEVES IN VIDEO
FOL CHEN: PLASTIC, SNOWY
FOL CHEN