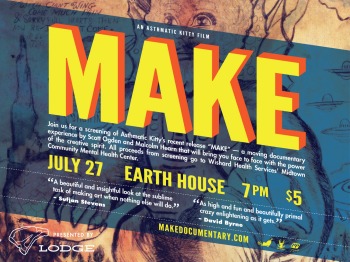 Along with Lodge Design, we're proud to present a special screening of Scott Ogden and Malcolm Scott's documentary, MAKE, in Indianapolis tomorrow night at EarthHouse. Artwork from the Wishard Health Services Midtown Community Health Center will be on display and for purchase. Info is on Facebook here.
You can buy tickets now for $5 by clicking
here
, or at the door Wednesday night at 7pm. All proceeds go to Indianapolis' Midtown Community Mental Health.