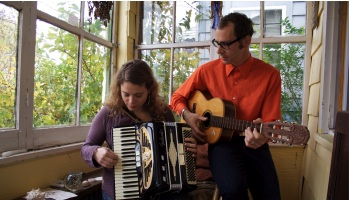 With LuvInIdleness, Sufjan Stevens has continued exploring his marital fetish and recorded another husband and wife duo (cf. The Welcome Wagon). The record is a lush pop EP from his old friends Ben + Vesper, the hard-scrabble, working-class artist parents from West Orange, New Jersey. Inspired by both Xanadu and A Midsummer Night's Dream, Luvinidleness is a healthy bonanza of five songs that render the woes of ordinary life (work, rent, mouths to feed! oh the mouths!) into glorious (and psychedelic) orchestrations of bubalicious pop. Sufjan described the recording process as "high-velocity, instant chemistry, rowdy fun, tag-team multi-tracking, vocal genuflecting, drum-fill whimsy, space-station bass synth, and vocal harmony madness." B+V calls it one of the "funnest" [sic] recordings they've ever done, and that it involved peanut butter cookies. They recommend a subwoofer for best listening experience.
You can download a very good and very free MP3 from the album by clicking
here
. To buy the CD for $9, click
here
to journey across the web to Sounds Familyre, or
here
to buy it from iTunes for about $5. We recommend you do so – they'll be touring with Danielson shortly, and how are you going to sing along if you don't know the words?
B-O-N-U-S! Stereogum has a new video from B+V
here
!